…
This section will contain Fantasy art kit boosters, smaller addon art kits with or without a specific theme.

This addon art kit can be used as a stand alone art kit or it can be used together with the other art kits.
It contains 62 new animal, monster & creature tokens + 50 new objects and item tokens, all which come
in 3 size sets: Fullsize, halfsize & quartersize. All brand new contents, not found in any of the other addon kits.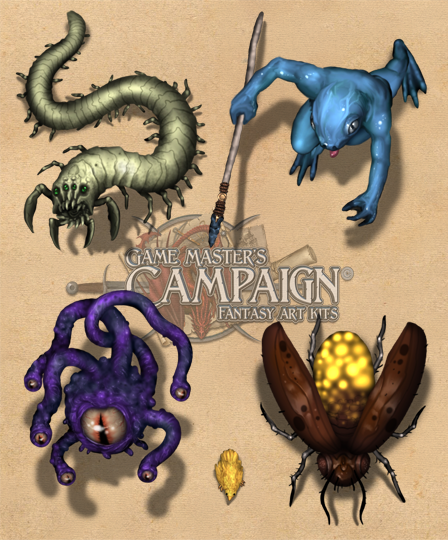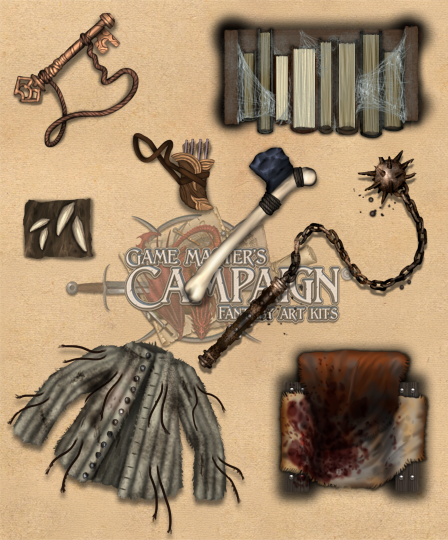 Items & objects:

ammo_naga_crossbow_bolt
ammo_naga_crossbow_bolt_quiver
animal_teeth_on_leather
bejeweled_creature_horn
birds_eggs
2 x birds_nest
bloodstained_chair
bloodstained_table
broken_barrel
broken_longbow
broken_marble_column
container_vial
damaged_warhammer
2 x dusty_old_chapel_grave
dusty_open_crate
dusty_water_tray_empty
dusty_wooden_bookshelf
dusty_wooden_shelf_wall
giant_blue_mushroom
item_large_key
marble_column
old_rusty_large_chest
old_wall_shield
rusty_flail
rusty_greaves_legs
rusty_helmet_metal_visored
rusty_kite_shield
rusty_longsword
rusty_mace_metal
rusty_main_gauche
rusty_metal_armor
rusty_morningstar
rusty_steel_helmet
2 x rusty_sword_broadsword
spider_cocoon_with_humanoid
2 x stone_rubble
weapon_all_metal
weapon_bone_axe
weapon_curved_knife
weapon_frogman_spear
weapon_naga_crossbow
weapon_tengu_katana
wearable_amulet
wearable_cloak_red
wearable_fine_belt
worn_reinforced_fabric_armor

Animals, Monsters & Creatures:

animal_chicken
animal_chicklet
2 x animal_giant_army_ant
animal_giant_firefly
3 x animal_giant_frog
2 x animal_giant_scorpion
animal_giant_slicer_beetle
2 x animal_giant_snake
animal_giant_stag_beetle
animal_giant_undead_spider
animal_giant_white_mouse
animal_hyena
2 x animal_metallic_centipede
3 x animal_worm_mass
chest_mimic
creature_forest_troll
3 x creature_frogman
creature_minotaur
creature_naga_archer
giant_freaky_spider
humanoid_ogre
humanoid_satyr
humanoid_titan
magical_basilisk
magical_black_pudding
magical_bloodshot_icky_thing
magical_blue_icky_thing
magical_bone_golem
2 x magical_construct_human
magical_dragon_bat
magical_eye_beast
magical_faerie
magical_gargoyle
magical_gel
3 x magical_mushroom_patch
magical_rot_jelly
magical_silent_watcher
magical_tengu
2 x magical_weird_eye
mythical_leprechaun
mythical_yeti
undead_carrion_crawler
undead_dreadlord
undead_mummy
undead_skeleton
undead_vampire