…
Wizards & Mages guild addon art kit brings magic items, spellcasters, new tilesets and more. This addon art kit can be used with the other art kits or all by itself. Please check the list below the preview images for contents found in this art kit.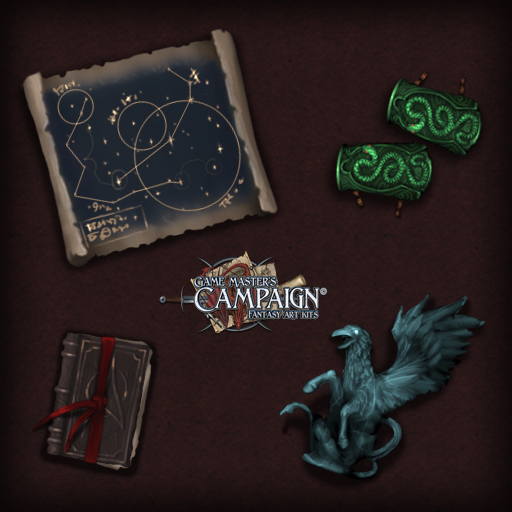 In the image above: A star map, magical set of arm bracers, a spellbook and a magic statuette of a gryphon.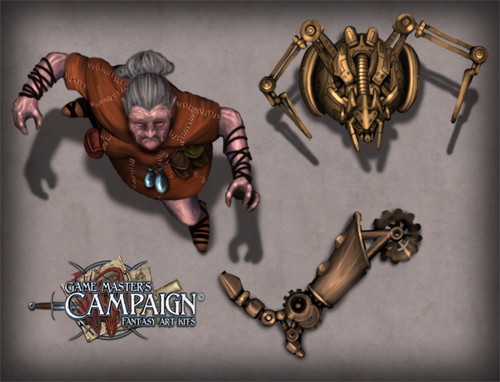 In the image above: a witch, a magical construct and a construct part.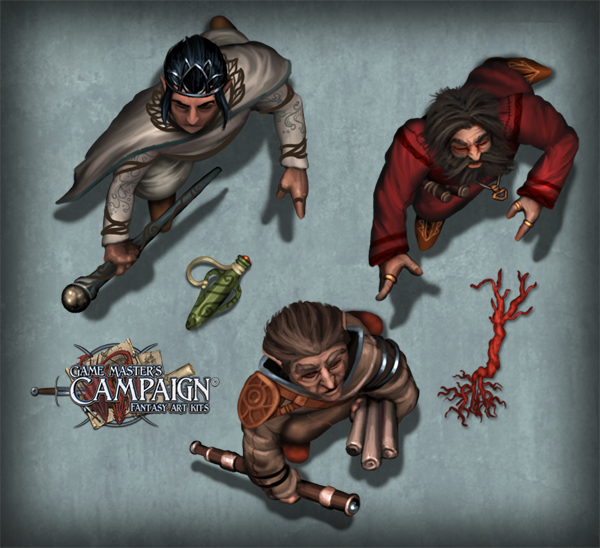 In the image above: An elven wizard, human wizard, gnome stargazer, magic potion and red root component.
Characters: 21 files
Dwarf male alchemyst x 2
Dwarf male runemaster x 1
Elf male archmage x 1
Elf male warriormage x 1
Gnome male astronomer x 1
Gnome male mage apprentice x 1
Human male mage x 1
Human male mage apprentice x 1
Human male Bard x 1
Human male High wizard x 1
Human male mentalist x 3
Human male peasant x 3
Human male sage x 1
Human male Sorceror x 2
Human male Warlock x 1
Monsters & creatures: 30 files
Birds x 3
Cat x 3
Centaur x 1
Construct x 3
Demon x 1
Dog x 3
Dragon x 2
Familiar x 2
Gargoyle x 2
Golem x 4
Horse x 2
Magical guardian x 1
Pegasus x 1
Royal pegasus x 1
Unicorn x 1
Items: 102 files
Destroyed items x 3
Artifacts x 3
Books x 7
Bottles x 2
Clay parts x 3
Clay tool x 1
Cloaks x 2
Construct parts x 3
Liquid container x 1
Liquid container in crate x 1
Empty crate x 1
Crystals x 3
Foodstuff items x 6
Clay golem parts x 3
Hats x 2
Herbs x 3
Ink house x 3
Magical components x 3
Magical items x 4
Wands x 3
Magic weapons x 3
Molds for casting x 3
Papers & parchments x 4
Potions x 3
Quill x 2
Robe x 2
Rod x 3
Carpet x 2
Runepaper x 3
Skeleton x 3
Skin x 2
Small statuette x 3
Maps x 2
Twigs x 2
Staffs x 3
Pouch x 2
Mortar x 1
Pestle x 1

Objects: 40 files
Wooden bench x 1
Stone fountains x 2
Lightsources x 3
Long bench x 2
Long table x 1
Magical defences x 3
Spell practice target x 4
Round tables x 4
Shelf x 1
Small boxes x 2
Statues x 2
Teleporter devices x 5
Trophy heads x 3
Wall banners x 2
Wooden seats x 5

Spell rune overlays: 17 files
Stone bridge tileset: 13 files
Large stone platform tileset: 25 files
Small stone platform tileset: 9 files
Stone stairs tileset: 8 files
Terrains, dirt & stone: 5 files
Stone corridor tileset 1: 159 files
Stone corridor tileset 2: 159 files
Wooden bridge tileset: 22 files
Cliff tileset: 13 images
Doors tileset: 26 images
Floors tilesets: 22 files
Gates tileset: 12 files