…
The GMC Nautical addon art kit provides you with a lot of new tiles, tokens, characters, items & objects related to the sea and water. Dish out maps with beaches, oceans, ships, sailors, pirates and more.  Please read the lists below for contents found in this addon art kit.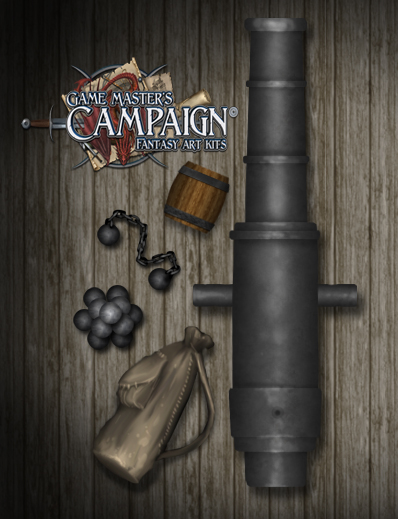 In the image above: wooden floor tile, powder keg, sailor bag, cannon balls and large cast cannon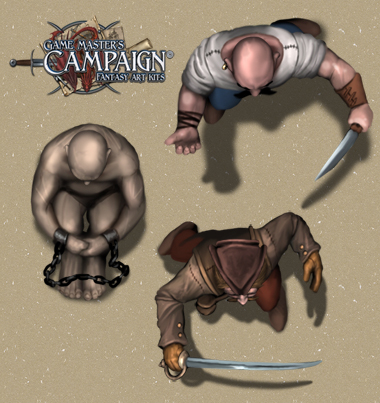 In the image above: a slave and two pirates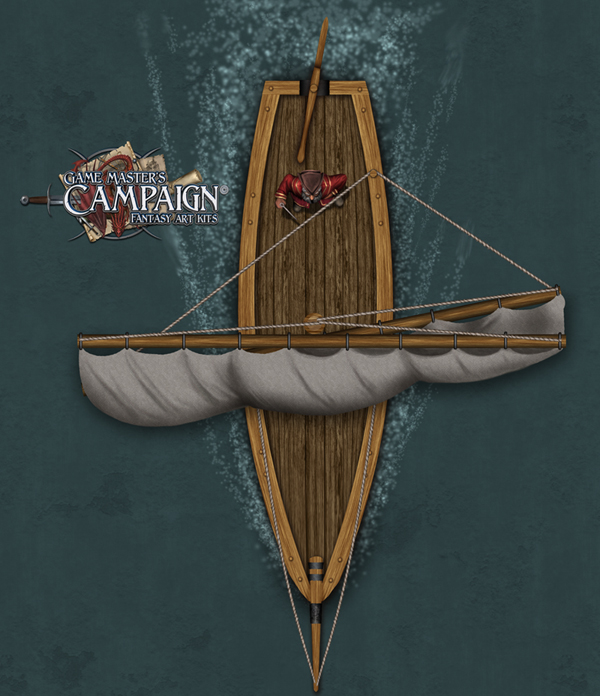 In the image above: ocean terrain, a small boat and a captain.
Animals: 13 files
Crocodile x 1
Dolphin x 1
Eeel x 1
Fish x 1
Frog x 1
Octopus x 1
Piranha x 1
Sea bird x 2
Shark x 1
Small bird x 2
Whale x 1

Monsters & creatures: 19 files
Capricorn x 1
Demon whale x 1
Dragon salamander x 1
Dragon turtle x 1
Giant hellbender x 1
Hydra x 1
Kraken x 1
Lake worm x 1
Lizardman x 1
MErcat x 1
Merman x 1
Redjaw x 1
Sea serpent x 1
Sharkman x 1
Siren x 1
Spinesh x 1
Water dragon x 1
Water elemental x 1
Water troll x 1
Items & objects: 113 files
Anchors x 4
Barrels x 4
Boat tool x 6
Bottles x 10
Wooden box x 4
Buoys x 4
Cannons x 6
Assorted cannonballs x 5
Cargo items x 4
Chests x 4
Fish x 3
Fish net x 2
Flags x 2
Flowers x 3
Foodstuff x 5
Lanterns x 4
Oar x 4
Old logs x 2
Planks x 4
Plants x 2
Powder kegs x 2
Rocks x 3
Rope x 2
Sack x 2
Seashells x 8
Statues x 6
Treasure chests x 4
Tridents x 4

Characters: 26 files
Male captain x 4
Male fisherman x 3
Male merchant x 2
Male navy personel x 2
Male pirate x 3
Male sailor x 3
Male slave x 3
Male sea elf fighter x 4
Male sea elf slave x 2
Boats & ship tiles: 26 files
Large sailboat x 1
Large sailboat set x 1
Medium sailboat x 1
Medium sailboat set x 1
Pirate ship x 1
Pirate ship set x 1
Small boat x 1
Small boat set x 1
Sunken ships x 4
Sunken ship sets x 4
Warship x 1
Warship set x 1

Terrains: 51 files
Green water tiles
High seas tiles
Muddy terrain tiles
Ocean tiles
Sandy beach tileset x 1
Cave tileset x 1
Overlays: 17 files
Algae x 4
Animal shadows x 3
Fog overlays x 4
School of fish x 2
Seagrass x 2
Whirlpool x 2