Through an idea conceived during the late summer of 2012, the project was created and successfully funded via kickstarter.com. The Game Master's Campaign – RPG art kits is the first selection of themed art kits to be developed and created, for use with digital and physical rpg game projects. Users can create campaign maps, add tokens ontop of them and battle it out, using the massive library of backgrounds, tiles, tokens, spell effects and more found in the various art kits.
You will find the base Fantasy art kit, the Minimap art kit and a range of addon art kits, for the Fantasy themed version of the project. Later on, a similar type Scifi art kit series might also be created.

Game Master's Campaign art kits
+
tabletop roleplaying Games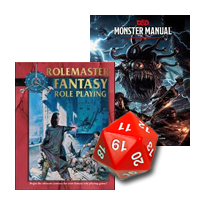 Use the Fantasy art kit and its addon kits for your physical and digital campaigns, create the maps inside your paint software or photo editing software such as Gimp or Photoshop and then print out the maps and tokens, taking the battle to your tabletop. The art kits will typically come in 3 sizes(the same image in 3 different sizes: Fullsize, Halfsize and Quartersize), the largest are intended for printing purposes. Some very large files will only be found in Halfsize and Quartersize. The base Fantasy art kit will contain more than enough artwork to get you started. Should you want to expand your digital library of rpg art, you might want to consider acquiring the addon art kits.
Game Master's Campaign art kits
+
Virtual tabletop softwares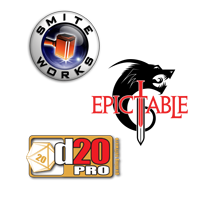 Bring the Fantasy art kit and its addon art kits into the Virtual tabletop software you are using. Create campaign maps on the go, using the tiles, terrains, overlay decals and tokens that are found within the various art kits.
Create minimaps of locations both interior and exterior and slip them to your players, luring them to any of these locations in search for fame, treasures and glory…or certain death.
Game Master's Campaign art kits
+
Commercial projects
A Developer license is required to use any or all of the art kit contents for commercial purposes, or to create artwork or maps and make these available beyond your private roleplaying group, online or offline. The Developer license can be found in the purchase section and includes a copy of the base Fantasy art kit and the Minimap addon art kit.


Please use the top menu to navigate to the art kits already made to learn more about them and their contents. In each page, you will find a detailed description of the art kits contents as well as preview images of the tiles and tokens. Please keep in mind, due to the nature of these art kits being digital products and easily copied, refunds cannot be given to any or all purchases. Products are sold "as is" and come as described.
By purchasing any or all art kits, you agree to the terms of use, which state the artwork is for private use only. You may not resell the art kits in parts or in whole. You may not make any or all artwork available online or offline to anyone but yourself and your roleplaying group members through gaming sessions.
The Developer license grants you the rights to use the artwork with your commercial projects.
Click here to read the full terms of use, subject to change without notice.
Payment is done using Paypal.