…
The base Fantasy art kit is the largest so far, meant to be an excellent asset for rpg gamers and Dungeon masters/Game masters out there. All the artwork found in this kit and in the addon art kits are displayed in a top-down viewpoint, where most tiles and tokens are made to scale. The artwork is provided as .PNG files with transparency, making it easy to create detailed maps, using the tokens ontop of them. When you purchase this art kit, you will get the Minimap art kit for free, otherwise the Minimap artkit is $7.99 as a stand alone art kit.
In total, there are over 1600 different images, tiles, tokens and overlays in this art kit alone, over 3200 if you count both sizes provided in it: -over 170 animal,creature & monster tokens ranging from mice & rats to large dragons -over 70 character tokens: male and female versions of dwarves, elves, humans, halflings, half-orcs and gnomes. -over 170 item tokens, ranging from bones to armors, keys and much more. -a large selection of detailed tiles displaying stone/wood walls, that allows you to create a wide range of different dungeons and buildings. -a mine cart track and cart tileset system. -Stone wall tileset, with and without snow added ontop of it. -Roof tileset, for your buildings that doesn't show the interiors. -Stone tower tilesets. -Premade rooms, getting you and your rpg party faster into the action, these are made to work nicely with the other tilesets found in this art kit. -a large selection of terrains, allowing you to construct detailed terrains and place rocks, vegetation, water sources and more ontop of them. Examples would be water, dirt, gravel, grass, sand and more. -a large selection of inventory objects, allowing you to add furniture to your buildings, such as chests, barrels, beds, tables and much more. Below are a few examples, made using the artwork found within the kit, actual sizes are much larger: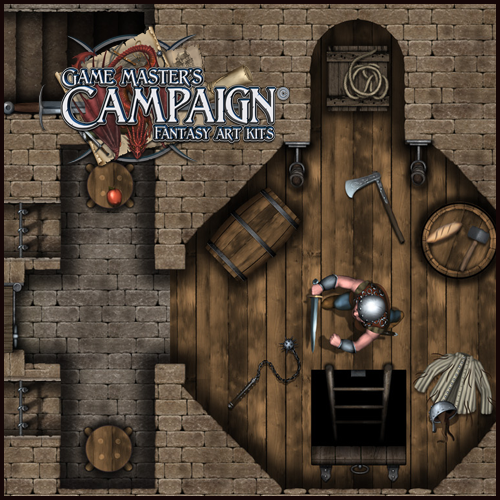 Above is a cut out from a larger map example, made using the artwork found in the base Fantasy art kit. Everything is drag'n'dropped into the same image, using Photoshop.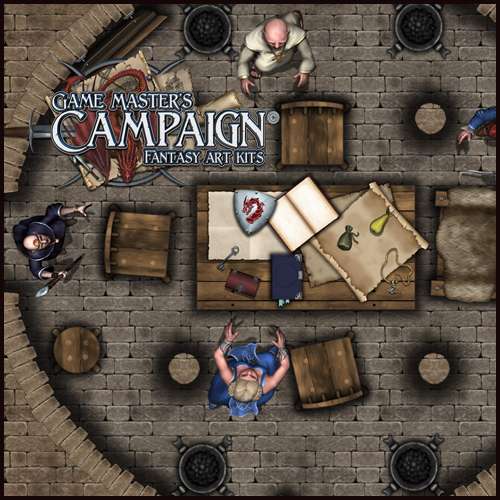 Another cut out from the same map example, the table comes clean out of the art kit, what you choose to put ontop of it is really up to yourself. The example here is meant to show a planning room within a small keep.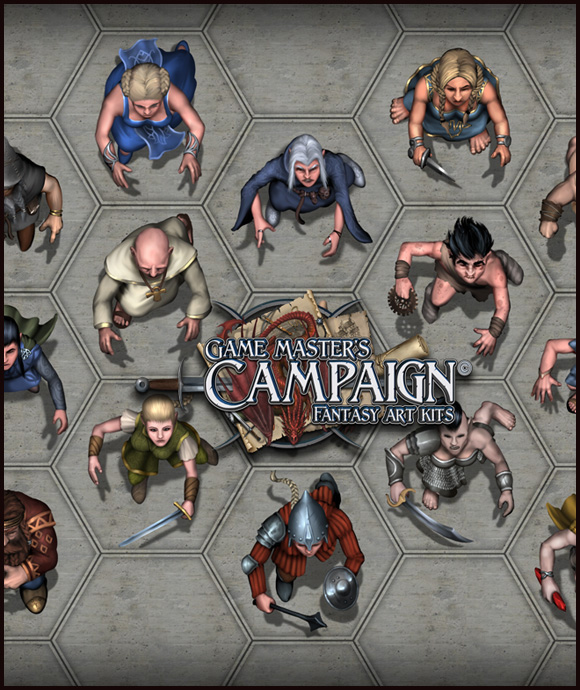 Some of the character tokens found in the base Fantasy art kit. This art kit has 6 character races and male/female versions of each race, new additions can be purchased through later addon art kits as they are created.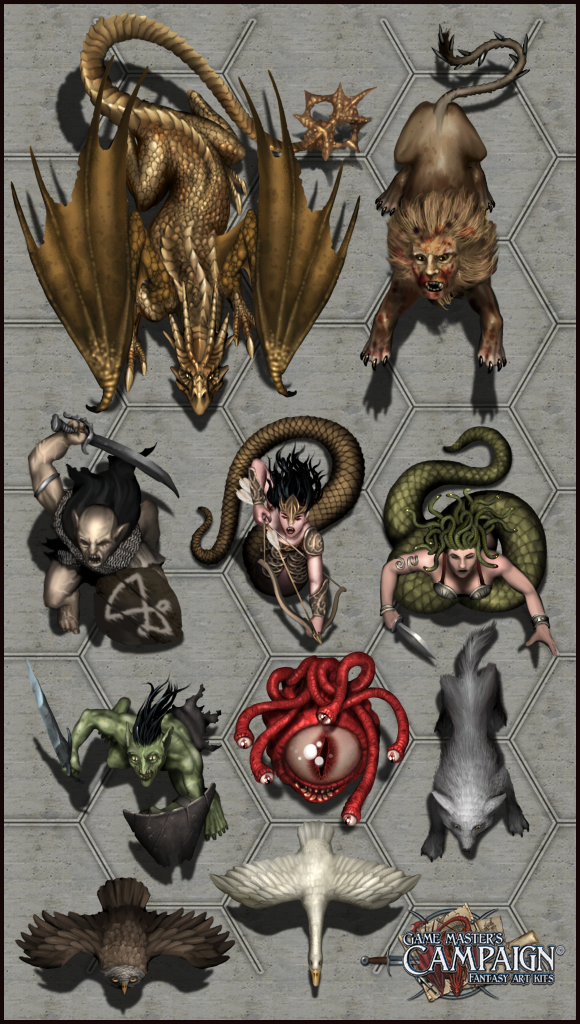 Seen above is a tiny selection of the huge mass of creatures, animals and monster tokens found in this art kit.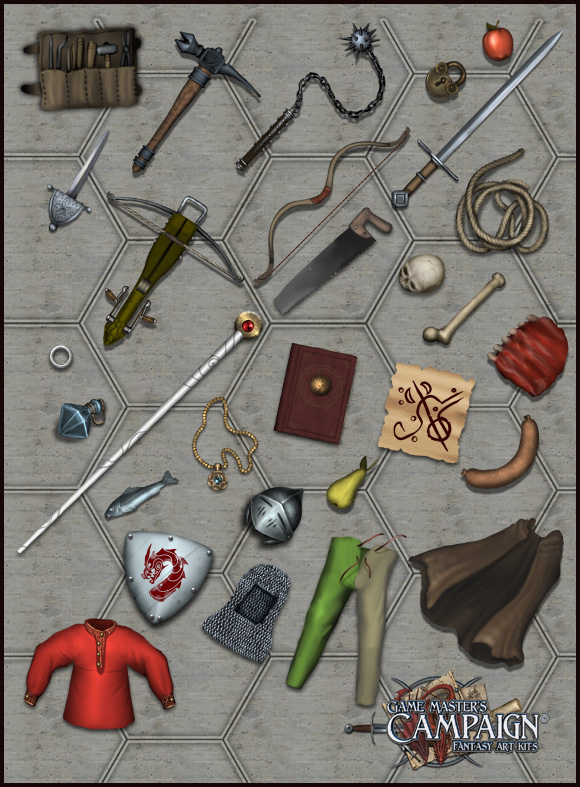 Seen above is a small selection of items found in the base Fantasy art kit.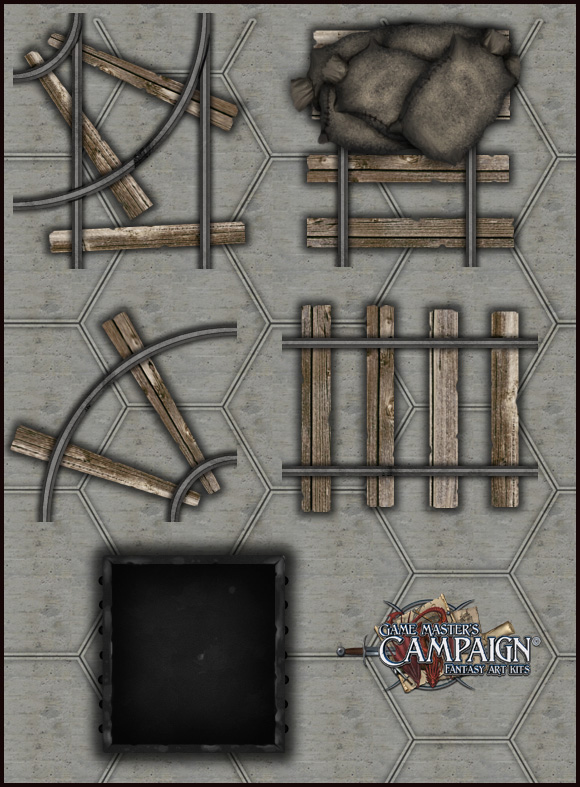 A few mine track tile examples, a full set is included in this art kit.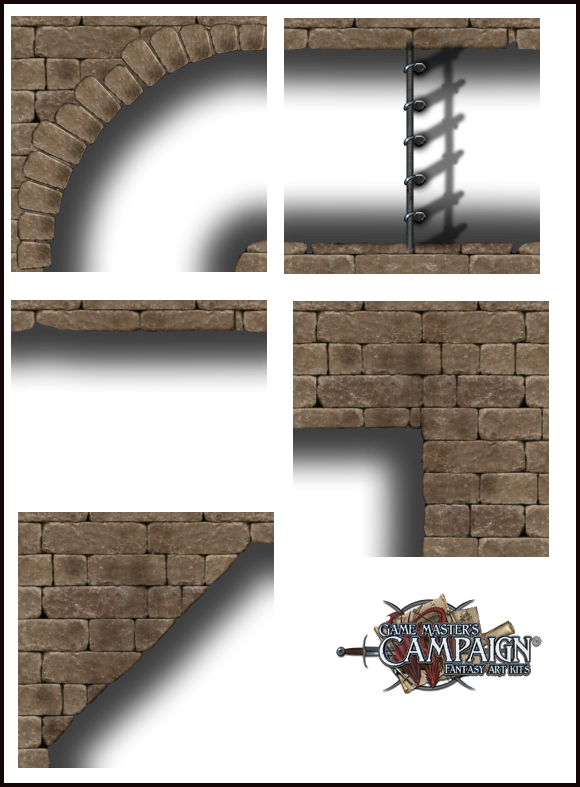 A tiny selection of stone tiles that are found in this art kit, the various sets also come in different colors. The full set is created to allow you to put together very detailed dungeons and castles. Doors, windows, archer slits, holes in the floor, inventory objects, tables, beds, statues and a bunch of other content is also included in this art kit.
A complete list of contents:

Characters:
Female Dwarves (beardless) x 6
Male Dwarves x 6
Female Elves x 6
Male Elves x 6
Female Gnomes x 6
Male Gnomes x 6
Female Half Orcs x 6
Male Half Orcs x 6
Female Halflings x 6
Male Halflings x 6
Female Humans x 6
Male Humans x 6
Structure tiles:
Various doors (usable for all wall types) – 26 images
Mine track tileset (tracks + minecart – 39 images
Roof part tileset – 36 images
Complete wood/stone stairs + custom stair tilesets – 80 images
Stone fence (with snow) – 72 images
Various premade stone room walls + stairs – 43 images
Stone room tileset – 156 images
Stone towers & parts – 54 images
Windows for stone structures – 18 images
Premade wooden room walls – 5 images
Wood room tileset – 56 images
Windows for wooden rooms – 10 images
Creatures:
Badger x 1
Bear x 1
Cat x 1
Cow x 1
Deer x 1
Dog x 1
Donkey x 1
Duck x 1
Eagle x 1
Goat x 1
Goose x 1
Hawk x 1
Horse x 1
Lion x 2
Lynx x 1
Moose x 2
Mouse x 1
Owl x 1
Ox x 1
Rabbit x 1
Rat x 1
Raven x 1
Sheep x 1
Snake x 1
Spider x 1
Swan x 1
Wolf x 2
Wolverine x 1
Items and Objects:
Ammo x 2
Clothing x 20
Coins x 12
Containers x 14
Armor x 22
Foodstuff x 19
Inventory objects for rooms x 97
Jewelry x 9
Magic items x 18
Misc x 6
Spell components x 15
Terrain objects x 61
Tools x 12
Transportation x 7
Weaponry x 32

Monsters:
Gnoll (DnD version) x 1
Kobold (DnD version) x 1
Air elemental x 1
Black reaper x 1
Black reaver x 1
Blood beast x 1
Bronze golem x 1
Caustic slime x 1
Clay golem x 2
Construct falcon x 2
Construct humanoid x 2
Construct spider x 2
Corpse candle x 1
Creeping hand x 1
Demon x 4
Disembodied head x 1
Dryad x 1
Earth elemental x 1
Eye beast x 1
Faerie dragon x 1
Fire elemental x 1
Fire hound x 1
Forest troll x 1
Gargoyle x 1
Gel cube x 1
Ghost x 3
Ghost wolf x 1
Ghoul x 2
Giant spider x 1
Gloombird x 1
Gnoll (Rolemaster version) x 1
Goblin archer x 1
Goblin assassin x 1
Goblin fighter x 1
Goblin spellcaster x 1
Gorcrow x 1
Gorgon x 1
Gremlin x 1
Hairball x 1
Harphy x 1
Homonoculus x 1
Ice hound x 1
Ice spider x 1
Killer rabbit x 1
Kobold(Rolemaster version) x 1
Leprechaun x 1
Lich x 1
Magic eye x 1
Monsters:
Mature winged drake red x 1
Minotaur x 1
Mummy x 1
Naga archer x 1
Naga spellcaster x 1
Naga warrior x 1
Night hound x 1
Nixie x 1
Nymph x 1
Ogre x 1
Ooze x 1
Orc fighter x 1
Orc slavemaster x 1
Orc warmaster x 1
Radiation eye x 1
Roaming body x 1
Satyr x 1
Skeleton x 3
Spiderbat x 1
Stone golem x 3
Stone troll x 1
Sylph (Rolemaster version) x 1
Vampire x 1
War troll x 1
Water elemental x 1
Wereboar x 1
Wererat x 1
Werewolf x 1
Wight x 1
Wild men x 1
Will'O'Wisp x 1
Winged wolf x 1
Zombie x 3
Monsters: 
Ancient land drake x 3
Ancient winged dragon x 3
Cave drake x 1
Centaur 2 x 1
Chimera x 1
Cyclops x 1
Demon x 2
Dragon horse x 1
Giant x 1
Giant roc x 1
Great eagle x 1
Griffon x 1
Hippogriff x 1
Manticore x 1
Mature land dragon x 3
Mature winged dragon x 3
Pegasus x 1
Phoenix x 1
Royal pegasus x 1
Siren x 1
Spider-man x 1
Titan x 1
Tree-man x 1
Unicorn x 1
Warcat x 1
Wardog x 1
Wyvern x 1
Young land dragon x 3
Young winged dragon x 3
Overlay tiles:
Various blood splat overlays x 13
Various claw marks x 3
Spider webs x 6
Dirt patches x 9
Dust on floor x 8
Green dungeon mold x 11
Sand patches x 7
Dungeon slime patch x 11
Crack in floor with burning flames x 3
Fireball exploding x 3
Dead grass patch x 9
Green grass patch x 11
Tan grass patch x 9
Green gas cloud x 9
Grey mist cloud x 10
Hay pile x 1
Bottomless hole x 3
Square cut hole with metal bars x 9
Iron bar fence x 2
Shine from lightsource overlays x 3
Lightning ball x 3
Magma crack x 3
Bottomless rift x 3
Snow patch x 11
Various magic symbols/runes x 19
Water puddle x 2
Terrain tiles:
Blue water (repeatable) x 1
Darkgrey floor (repeatable) x 1
Darkgrey floor patches x 7
Dirt flat (repeatable) x 1
Dirt flat patches x 7
Dirt mass (repeatable) x 1
Dirt mass patch x 6
Grass (repeatable) x 1
Grass patches x 5
Gravel tileset x 9
Various tiny island patches x 9
Light colored floor (repeatable) x 1
Murky water (repeatable) x 1
Sand patches x 7
Various sand floors (repeatable) x 3
Various stone floors (repeatable) x 7
Various wooden floors (repeatable) x 3
Various clear water bodies(ponds) x 10
Various murky water bodies(ponds) x 5